Preservation Awards: 2019
November 7, 2019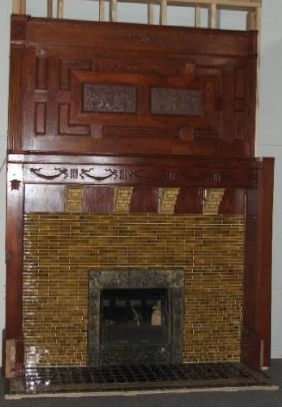 Restoring the Thompson House Fireplace at the W. H. Over Museum
January 28, 2021
Enjoy reading a book about the two Carnegie Libraries in Vermillion!
Both buildings were constructed in the early part of the 20th century. One served the citizens of Vermillion and surrounding areas, the other became the University of South Dakota Library. In South Dakota 25 community Carnegie libraries were constructed and only Vermillion and Yankton had the distinction of having two Carnegie Libraries. Over time, both Vermillion's Carnegie libraries were used for other purposes. The Vermillion public library, owned by the City of Vermillion, has been leased to law firms from 1978 to the present. In 1983 the building was placed on the National Register of Historic Places.
The University of South Dakota (USD) Carnegie building was doubled in size in 1940. In the 1960's the USD student population increased so much that a new library building was needed. In 1967, the old library building then was designated to house museums. First the W. H. Over Dakota Museum occupied most of the building and Shrine to Music Museum occupied a couple of rooms. By 1984, the Shrine to Music Museum took over the entire building and the Over Museum moved to a newly constructed building on campus. In 2002 the Shrine to Music Museum changed its name to the National Music Museum and in 2019 the building is being renovated and an extension constructed. Thus, both Carnegie library buildings in Vermillion stood the test of time and contributed to the architectural and cultural history of South Dakota.